Speaking of Impact magazine: A cool (and free) resource for speakers & meeting planners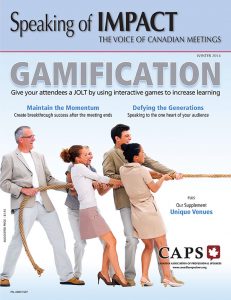 Just passing on some free resources to you, so you can stay connected with the speaking industry. 🙂
You can get a FREE subscription to the quarterly Speaking of IMPACT magazine!
Speaking of IMPACT the voice of Canadian meetings Speaking of IMPACT is a magazine devoted solely to excellence in all aspects of planning and delivering the very purpose of most meetings…the content.
This is one of the most valuable resources for professionals in the meeting industry who are committed to providing events and programs with significant and lasting bottom-line value.
Please visit www.speakingofimpact.ca for more information.  Speaking of IMPACT is a publication produced by the Canadian Association of Professional Speakers. CAPS is your best source for finding the right speakers for your next event or meeting.
There's also a  Speaking of IMPACT blog that gives you, the reader, an opportunity to share your experiences, and opinions related to these articles as well as to ask additional questions of the author. In many cases the author has contributed additional information or a video message to go along with the article.
• Get your complimentary subscription to Speaking of IMPACT.