10 Ways To Book Yourself Silly as a Speaker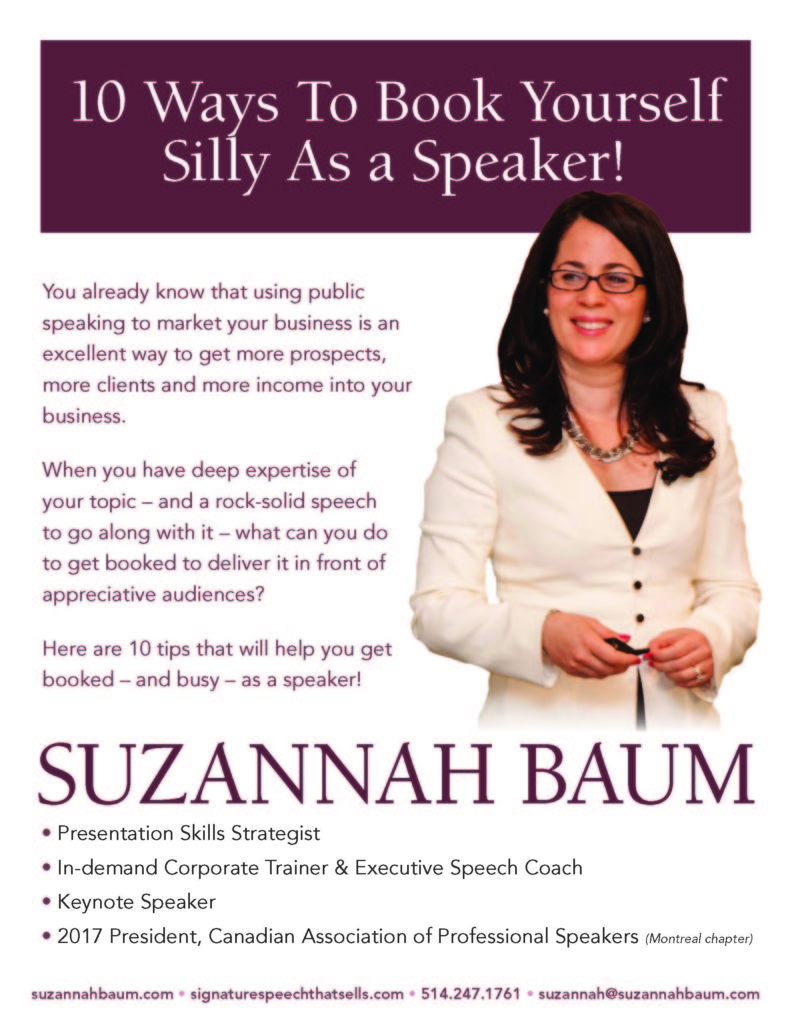 Webinar & Audio MP3 (39 mins). PLUS bonus 10 Ways To Book Yourself Silly as a Speaker handout.
$15 CAD
Get booked – and busy – as a speaker!
You've got that amazing speech that you're dying to share with the world? It's now time to get in front of your audiences and use that speech to gain more visibility, more clients and more income into your business — or to skyrocket your career!
Here are 10 tips that will help you book yourself silly as a speaker!
BONUS: With the purchase of this webinar, you'll also receive the handout, 10 Ways to Book Yourself Silly as a Speaker. Each of the 10 points are condensed into one easy to follow sheet, making it even easier to highlight which tips will work best for you!
*Includes: Online webinar, MP3, and handout: 10 Ways to Book Yourself Silly as a Speaker (PDF).
** Delivery method: Immediately after the order is submitted and accepted, you will receive an email with information on how to access your webinar, MP3 and handout. Please contact us at suzannah(at)suzannahbaum.com if you do not receive your purchase within 15 minutes of order submission.
*** Please note: the content of the webinar and MP3 is the same; this way you can watch the webinar and reinforce the ideas with the MP3 while you go for a walk, do some gardening, or enjoy with a croissant and a perfect cappuccino (chocolate or cinnamon sprinkled on top? You decide).
Privacy: Your personal information and email address will not be shared or sold to any other company, organization or individual. We will only use your information to fulfill your order and to serve you better.
Security Information: Order securely online. Suzannahbaum.com uses PayPal for online orders. PayPal uses SSL technology to keep your financial information safe. Learn more about PayPal security.
Ready to NAIL your next presentation?