Create A Signature Speech That Sells!
If you are an entrepreneur, business owner, author, expert, or manager who wants to master the art of speaking on stage or presenting in front of groups…
You've come to the right place.
Are you tired of letting nerves, inexperience, and/or a poor speech structure taint your presentation style and marketing effectiveness?
Do you know you have tremendous value to share – and stories to tell – and don't need to hold yourself back because you're totally overwhelmed with how to put together a presentation in a compelling, engaging, and powerful way?
Would you like to know exactly what it takes to have your audience hang on your every word EVERY TIME you give a presentation – from beginning to end?
I'm Suzannah Baum. As a public speaking trainer, executive speech coach, and keynote speaker, it's my pleasure, privilege, and passion to teach talented individuals like you how to make the art of masterful public speaking simple and to help you unleash your ultimate speaking potential.
If you're like many of the new speakers I work with, you:
Know you need to be speaking to stand out but are too nervous to get started
Feel stumped by trying to figure out not only what to say, but how to say it in a way that will be heard and understood by your audience
Get tense when you think about the "HOW" of putting together an impactful presentation
Or maybe you're more like my more experienced speaking clients who:
Are tired of getting mediocre results from the presentations and speeches you're already giving (meaning: no follow-up meetings or sales!)
Just don't know how to up your game as a speaker to make the most of the opportunity
Are fed up with feeling like the key to making a more meaningful impact on your audience is out of your area of expertise or know how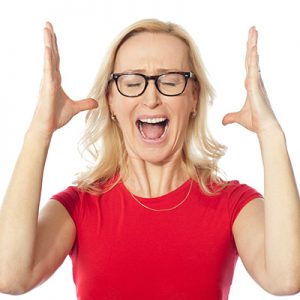 Regardless of which category you fit into, both can be equally frustrating.

Unleashing your Ultimate Speaking Potential is not only easier
than you think, but you can do it more quickly and easier than
you'd expect – AND start reaping the rewards instantly!
Picture yourself on a stage or in front of an audience…
All eyes are on you.
Your strong opening draws your audience in.
You help them understand right from the start why your speech is relevant to them, and what value they can expect to receive from it.
Your entertaining, informative, and clearly-structured content keeps them hanging on your every word.
Your impactful close and call to action bring applause, more invitations to speak, and more requests book meetings or purchase your products or services than you've ever experienced.
Ready For This New Reality as a Speaker?
It's totally possible when you master the steps to creating a signature speech that sells.

Introducing my Create A Signature Speech That Sells! Online Training Program…
My Create A Signature Speech That Sells! Online Training Program is a step by step self-study training program where I'll walk you through my tried-and-true success secrets for creating structured, engaging and, powerful presentations.
In this program, here are SOME of the topics we'll cover:
How to get clear on what you want to talk about
How to tap into your past experiences to build amazing content and stories for optimal audience engagement
How to use my Diamond Speech Structure™ that will forever change how you create your presentations
How to FOCUS all your ideas into a clear and logical format
How and when to sell from the stage
The secrets behind strong speech openings & closing
The BIGGEST mistakes professionals make when promoting their business to an audience
How to stay calm, focused and confident – for your first speech, or your hundredth
By the end of your self-study program, you'll have a clear, focused, and engaging presentation that you can give in front of any audience. You'll also learn the process of creating new presentations, how to tailor them for different audiences, and how to change their length, depending on whether you're given 10, 30, or 90 minutes to speak (or even longer!). But best of all, this program will allow you to unleash your ultimate speaking potential, and get you out in front of audiences that WANT what YOU HAVE.
There IS homework to do. There IS soul-searching. But there is also accountability, support, and guidance to help you every step of the way.
When you enroll in this program, you join an impressive community of entrepreneurs, coaches, business professionals, and academics who know the value of creating a signature speech and unleashing their ultimate speaking potential.
Results ARE Typical!
What kind of results can you expect to experience from participating in my program? Here are just a handful of success stories from some truly seasoned speakers…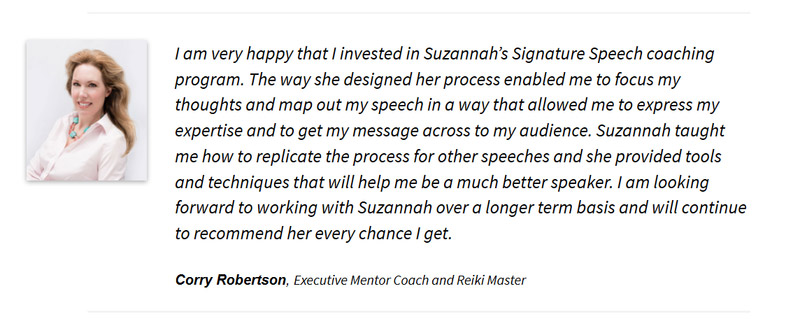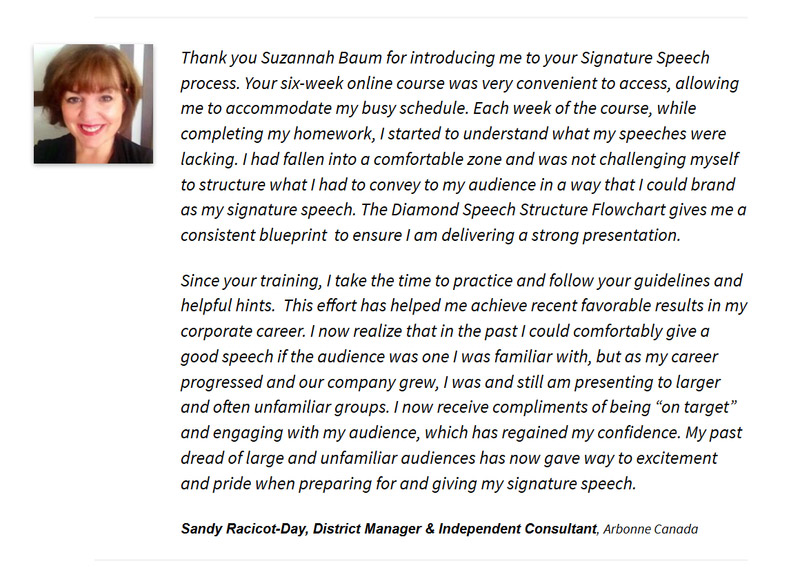 You've spent your whole life building your expertise, knowledge and talents.
And now, within only a very short time, you'll be able to share it with the world.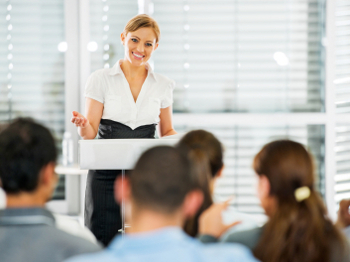 Here's a breakdown of our class content:






Don't miss your chance to master the 3 keys to impactful presentations
(Structure, Delivery, Audience Engagement)!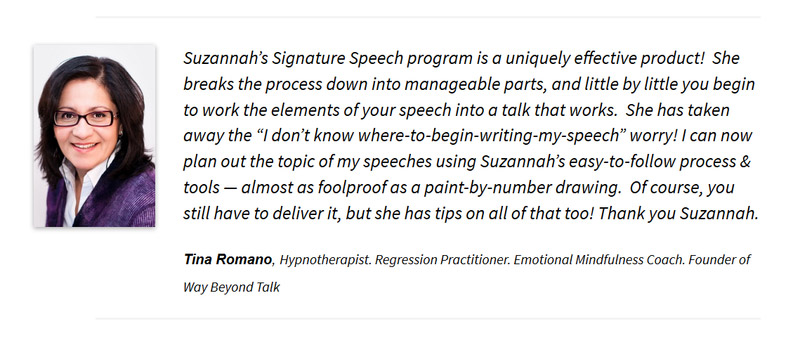 I'm Ready To Unleash My Ultimate Speaking Potential!
Suzannah, What's The Investment For Your Program?
The full value of this program when I do it as part of a 6-week live online training is $1,500.
But here's the best part.
For the self-study program, YOU get to choose how you can benefit most! (and BOTH options include a monthly, one-hour group laser coaching call with me, so that the lines of communication between us are always open, and YOU get regular support, guidance and feedback that you need to stay on track in creating your powerful Signature Speech!)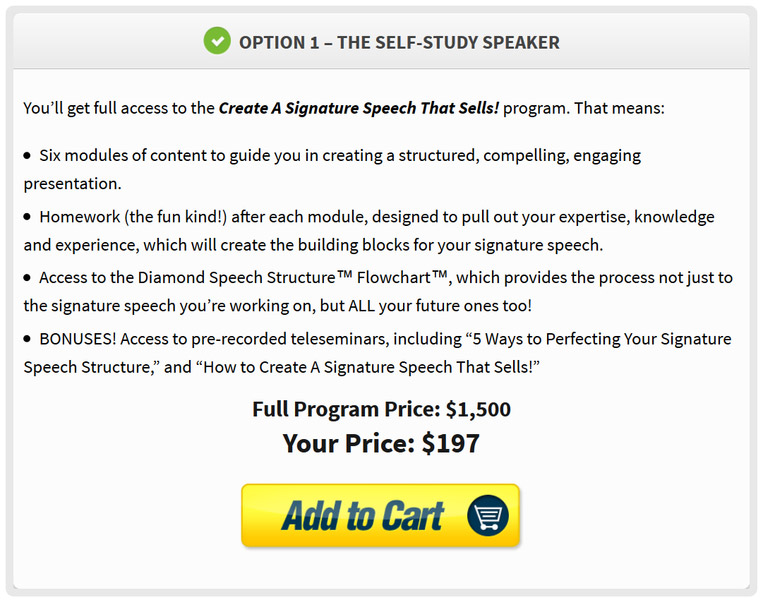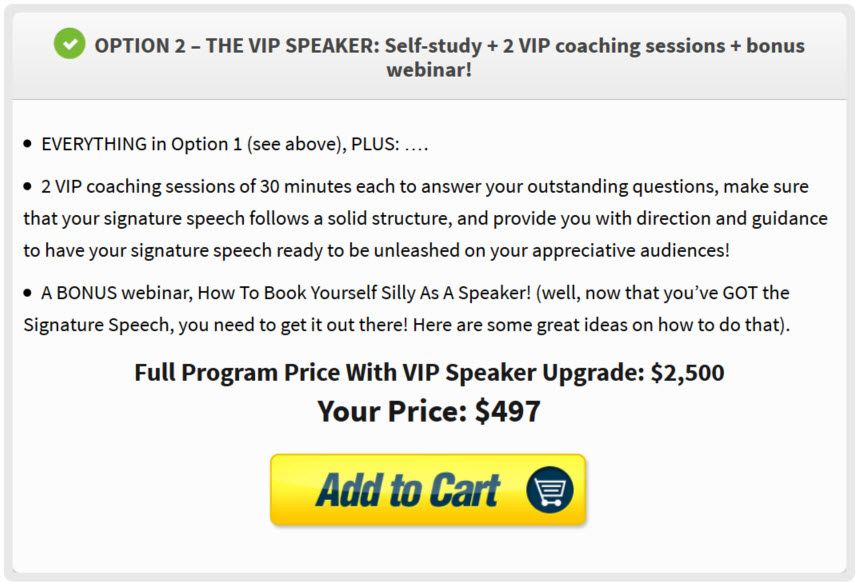 Ready to NAIL your next presentation?