The Past – and the Future – of Toastmasters International (my Interview with Daniel Rex, CEO of Toastmasters International)
"I realized that I wasn't very good at public speaking. I lacked the basic principles such as how to properly organize my speech using visual aids, using my voice in a better way, and finding the best speech structure to drive my points home."
Not what you would expect Daniel Rex, the CEO of Toastmasters International, a world leader in communication and leadership development, to readily admit. And yet, after 26 years in the organization, he's come a long, long way.
With over 15,900 clubs in 142 countries, and millions of Toastmasters members worldwide since it was founded in 1924, it's fair to say that the Toastmasters formula of having members give speeches, gain feedback, lead teams and guide others to achieve their goals, all within a supportive  atmosphere, has been phenomenally successful.
Daniel has been involved with the organization since 1990, having started as a marketing manager, to assuming the role of Executive Director in 2008 and being appointed to CEO in 2013. Daniel readily admits that his experience as a Toastmaster changed his life. "I can't even count the number of people who said Toastmasters changed their lives too," he notes.
The right club for the right person
"Back in the day, I was a member of Toastmasters for around 8 years, and at the time, I was lucky enough to find a club that was filled with dynamic, supportive and fun people who I connected with immediately.  Others may have to visit a few clubs before they find the right fit for them."  In recounting his long history with Toastmasters, Daniel agrees that each club has its own unique vibe and character.
He recalled one club in California that he visited had members who had come straight from surfing at the beach immediately before the meeting – even smelling like salt water – while other members attended the same meeting in a suit and tie. At the same time, there are some clubs where if you're NOT wearing a business suit, you'd be out of place. The culture varies, and yet, one of the great strengths of the organization is that clubs can develop who they are and how they want to work, yet still deliver the core educational program.
Huge growth for the future – because face-to-face communication still matters!
Daniel was excited to tell me that the Toastmasters organization is in a strong growth phase. When the global economy crashed in 2008 and 2009 and most businesses were flat, Toastmasters grew and has continued to grow by 4 to 7 percent per year ever since.  There is a growing global awareness that communication and leadership skills are more critical than ever. Especially with the reliance on mobile devices, many of us are accustomed to communicating electronically and neglect face-to-face communication – which is still a crucially important skill to develop.  There's a constant demand for better communication, and the 'experiential learning laboratory' that is Toastmasters is still the most effective program to achieve this goal at a reasonable cost.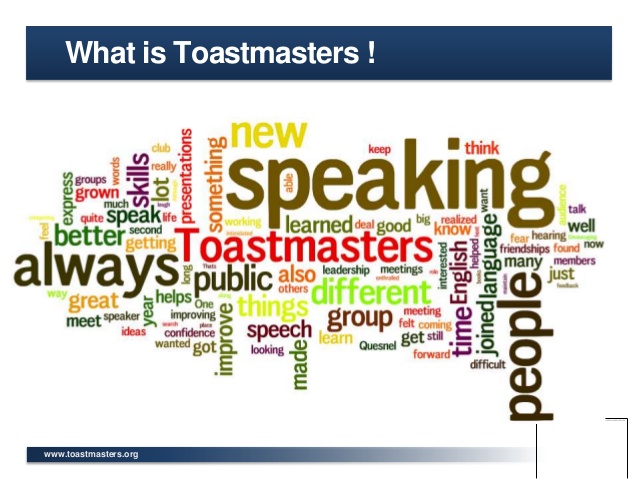 The launch of Pathways – learning from the ground up
Daniel was very excited to share details about the Pathways program, a new approach to Toastmasters learning, set to launch in 2017. Pathways is based on five core competencies; public speaking, interpersonal communication, leading and managing, and strategic leadership. So you could choose to focus more on public speaking and interpersonal communication, or you might work on projects that are a blend of public speaking, leading and managing, if that relates more closely to your professional or personal goals.
Pathways also introduces technology to the learning experience. This means that members are free to work on projects online, watch videos, and engage in digital interactivity. Team building and engaging an audience, composing a well-organized speech, and leading with flexibility are some of the competencies that are built into the Pathways program. "We created it because our members asked for it," said Daniel. "We have been working on it for about 5 years with members in clubs and online, telling us what we were missing. It's a natural evolution of the Toastmasters mission. The rollout begins this month and should be completed worldwide by the end of 2018." The first group will be in California – which, coincidentally, is where Toastmasters began.
The future looks bright
When asked about the future of the organization, Daniel said that in 10 years Toastmasters will be more important than ever. "The brand will be stronger and have an active alumni group. Pathways will be a large part of that. We're now able to offer not only public speaking but interpersonal communication, leading, managing, and strategic leadership. We're also working on a plan to better communicate our brand to the outside world and to support clubs and districts through stronger social media."
The love affair with Toastmasters continues….
As a presentations and executive speech coach, I often come across individuals who tell me they don't need help in public speaking, because they are already comfortable speaking in public. The real question is, however, does your audience think that you have no problem speaking? Can you get your message across effectively? That is why Toastmasters is so essential and so popular. They teach not only how to develop presentation structure and how to deliver with confidence, but also how to connect with an audience. It's an incredibly valuable resource for new and seasoned speakers.
As Daniel said, Toastmasters changed the course of his life, and he couldn't count the number of people who have told him Toastmasters changed their lives, too. Toastmasters changed my life as well, and for that, I will be forever grateful. And for people like Daniel, as well as the tens of thousands of volunteer leaders working tirelessly to help members build their communication and leadership skills so that they could change the course of THEIR lives and careers and build a brighter future, millions of other people worldwide are also forever grateful.