Back to School! 10 Books to Build Your Speaking Success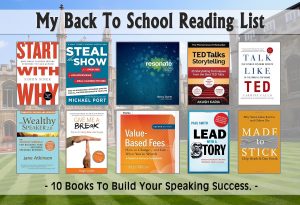 Whenever September rolls around, I can always sense renewed energy in the air. Maybe it's that we're all 'waking up' after a hot, lazy summer and the phones are starting to ring – maybe it's because the kids are going back to school, and we have no choice but to get busy – and maybe it's because as adults, we still vividly remember the excitement, nervousness and general chaos when WE were returning to school.
But just because we're adults doesn't mean that we should slack off on learning, reading and growing! And while we probably have less time in our day now wheels of September are turning round and round, it's still vitally important to carve out small pockets in our day (even if it's only a few minutes before bed) to keep our brains moving, our skills building, and our businesses and careers expanding.
This Autumn, I'll be re-looking at some of my favorite books that have given me enormous insights on how to enhance my speaking skills, learn the secrets of TED, build my speaking business, set my fees, be a better storyteller, and more.
So here we go with my Autumn reading list.
Start with Why, Simon Sinek
I start with this one, because it's the book that's sitting on my nightstand as I write this, that I'm about to crack open. I'm a huge fan of his TED speech, How Great Leaders Inspire Action, which focuses on the "WHY?" (which also backs up the whole philosophy behind my Create A Signature Speech That Sells online program that helps you create structured, engaging, meaningful presentations).  I also just bought this book as a gift for many of my clients, and they LOVE it. Can't wait to sink into this one!
---
Steal the Show: From Speeches to Job Interviews to Deal-Closing Pitches, How to Guarantee a Standing Ovation for All the Performances in Your Life, by Michael Port
That title pretty much says it all, doesn't it? Michael Port is talented, passionate, and mesmerizing to watch.
---
Resonate: Present Visual Stories that Transform Audiences, Nancy Duarte
This book has been on my shelf for many years, and I tend to refer to it every now and then as a very valued reference. I always loved how she equated a speech as a journey, almost like a roller coaster, highlighting the ups and downs of a good presentation. She teaches how to create and use stories in way that are woefully underused…but when used correctly, engages and transforms the audience.
---
TED Talks Storytelling: 23 Storytelling Techniques from the Best TED Talks, by Akash Karia
Using case studies TED talks by Sir Ken Robinson, Dr. Jill Bolte Taylor, Susan Cain, Leslie Morgan Steiner, Mike Rowe and Malcolm Gladwell, this short guide shares how to use stories to make your presentations engaging and entertaining, and how to craft stories that keep your audience mesmerized.
---
Talk Like TED: The 9 Public-Speaking Secrets of the World's Top Minds, by Carmine Gallo
Carmine Gallo deconstructs hundreds of TED presentations, interviews some of the best TED speakers and narrows it down to nine secrets of all successful TED presentations, providing a step-by-step method that makes it possible for anyone to create, design, and deliver a TED-style presentation.
---
The Wealthy Speaker 2.0: The Proven Formula for Building Your Successful Speaking Business, by Jane Atkinson.
One of the first books I bought when I started my speaking career over 10 years ago, this book is the definite guideline to teaching aspiring (and experienced) speakers how to get more bookings at higher fees. I still remember reading the first 2 pages, "A Day In the Life of a Wealthy Speaker," and how it filled me with that weird feeling in my stomach. You know, the feeling that says "That! I want THAT!"  Everything from positioning, picking a lane, important website elements, speaking bureaus, building a client database, marketing materials, developing processes and setting fees, my version of this book is dog-eared, and full of highlights and notes. Definitely a great investment for any speaker (I read the original, but I'd recommend the updated Wealthy Speaker 2.0 version).
---
Give Me a Break: The Art of Making Time Work for You, by Hugh Culver
Also a staple in my library, I love Hugh's no-nonsense tips and strategies on how to create processes, new habits, and new ways to managing your time so that you can just get 'er done!  I will always struggle with the chapter that talks about the virtues of having a clean, tidy office desk (not because I disagree, but because it'll take a miracle to get all the papers and junk off my desk). One day it'll happen, Hugh. One day…
---
Value-Based Fees: How to Charge – and Get – What You're Worth, by Alan Weiss
The best, most highly-paid speakers in the business always refer this book to me, and so, I refer this book to YOU. It has been touted as the definitive guide on how to set your fees – and set them HIGH, to get them in line with the magnificent value that you bring to your clients. Those who have read this book (as I said, the best, most highly-paid speakers in the business) swear by Alan Weiss' approach. So who am I to argue?
---
Lead with a Story: A Guide to Crafting Business Narratives That Captivate, Convince, and Inspire by Paul Smith
Paul Smith is a corporate storytelling expert who helps people use an emotionally-driven narrative to choose a story tailor-made for their own particular need, adapt the ready-made stories, and even craft their own. It's so relevant in business today, especially as corporate executives become more and more aware of the value of storytelling and audience engagement in their presentations.
---
Made to Stick: Why Some Ideas Survive and Others Die, by Dan and Chip Heath
This book has been around for awhile, yet still keeps coming up on many "recommended" lists, and it's easy to see why. Essentially, why do some ideas thrive while others die? And how do we improve the chances of attracting others to our ideas? This book addresses these questions, reveals the 'anatomy' of ideas that stick, and explains ways to make ideas stickier (but not the "ew, gross!" kind of stickier).
What about you? What books are YOU dedicating yourself to this Autumn?